Being John Greenwood: Works 1994 – 2014 curated by Juan Bolivar
1st May – 31st May 2014 – Private view Wed 30th April 6-9pm
John Greenwood came to prominence in 1992 when his work featured in the inaugural Young British Artists show at the Saatchi Gallery at
Boundary Road, exhibiting alongside Rachel Whiteread, Langlands & Bell, Alex Landrum and Damien Hirst.
In a room adjacent to Hirst's now legendary formaldehyde shark, (The Physical Impossibility of Death in the Mind of Someone Living, 1991), there were a group of paintings by a Royal College graduate titled with equally poetic allusions such as; Never stand in the middle of a three way street (1992), measuring 137x183cm and Mr. Reasonable (still uncertain if he's a vegetarian or a cannibal) prepares for the end of season ball (1990), measuring 122x152cm. The paintings – seven in total – hovered somewhere between 17th bodegón Spanish still life painting, the fantasy worlds of Walt Disney, and the surrealism of Salvador Dali. Eclectically merging these themes, the paintings were rendered with the skill of a Dutch master and the wit of this seminal generation of artists: the YBA's.
The forthcoming exhibition at C&C Gallery, Greenwood's first solo exhibition in twelve years, takes a retrospective look at the work of this artist. Although not a retrospective as such, the exhibition contextualises this artists' practice within the framework of his iconic works of the 90's and the new works produced for this exhibition.
Like the improbable – though not impossible – narratives in the film Being John Malkovich (1999), Greenwood's paintings and drawings explore comedy and fantasy, utilising at their disposal familiar art historical tropes found in the high-art tradition of still life painting, and extending to include sources as diverse as 'Celtic knot-work', 'Street Art' and Terry Gilliam's animations. Suspended in motion as if the sculptures of Jean Tinguely were morphed with a Japanese horror movie.
This version of the modern grotesque hints at disparate human emotions within us all, permeating our living environments and the wider culture which engulf us. In their final analysis, repulsion and seduction in works old and new, are delineated with uncanny and virtuoso skills, underpinning the return of this unique artist into the fabric of British contemporary art, exacting a presence felt with equal vitality, twenty two years after the shark infested waters of yesteryear.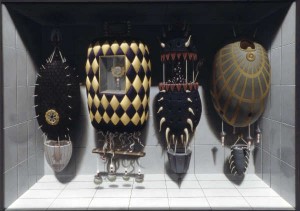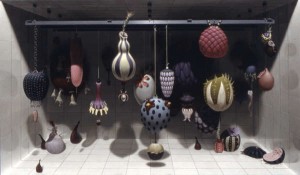 Born in Leeds, 1959, John Greenwood graduated from the Royal College of Art in 1990, where he received the Cite Internationale Paris residency award, the Burston Award and the Midland Bank purchase award. Solo exhibitions include: Jason Rhodes Gallery, London (1995 and 1998), Galerie Helmut Pabst. Frankfurt (2000), Europaische Zentral Galerie, Frankfurt (2002) and Europaische Zentral Galerie (2002).  Selected group exhibitions include: Young British Artists, Saatchi Gallery (1992), Mutations (two person exhibition with William Latham), Manchester City Art Gallery (1993), Helen de Sybil and John Greenwood, Jason Rhodes Gallery (1994), Fusion, Rhodes + Mann Gallery inaugural show (2000), The Modern City in Europe, Museum of Contemporary Art, Toyko (1996), Cheers, Sun and Doves Gallery, London (1999), The Armory Show, Rhodes + Mann Gallery, New York (2002), Trailer (2001) and Guns and Roses, London (2002), curated by Juan Bolivar.
John Greenwoods work can be found in several public collections including: Arts Council of Great Britain, Swindon Museum and Art Gallery, Paisley Museum and Art Gallery, private collections include: Saatchi Collection, Midland Bank (HSBC), Absolute Vodka, The T.I. Group, Susan Kasen Summers and Steve Martin, and featured in seminal publications such as Shark Infested Waters by Sarah Kent (1994) and Oil on Canvas by Keith Patrick (1997) as well as  The Sunday Times (1992), Financial Times (1992), The Independent (1990), and The Independent magazine (1998).