A/S/L
Patrick Simkins / Paul Wescombe / Michael Colegate
5th Dec 2015 – 29th Feb 2016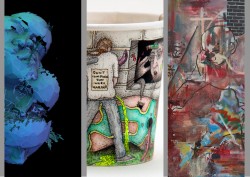 Appealing to a youth culture swamped in a society increasingly concerned with identity grooming and appearance, whilst a backlash of raw 'uncensored' imagery are posted online by young adults A/S/L seeks to explore the relationship between social media, the visual arts and male identity in a digital age.
Paul Westcombe explores male sexual identity through characteristic self portraits on objects. Combining caricature like paintings with everyday objects such as lighters, used coffee cups and travel cards, showing an indifference to metrosexuality his work is comically concerned with identity and exploration of the male body through the use of narcissistic humour, phallic objects and male nudity. Similar to the backlash of feminist imagery in the 80s dealing with the ownership of one's body and in opposition to the outward projection of male sexuality often depicted in the media, Westcombe's work holds a vulnerability where we see into the world of a man's awkward investigation of himself whilst surrounded by the mechanics of life's absurdity.
Using the platform of social and digital media emerging artist Michael Colegate responds through experimental interactive media, allowing a manipulation of live feeds into the gallery whilst posting it back out into the digital ether. Michael works with a vocabulary of improvised structures, mechanical features, and projection, leaving his chosen media undefined and open, the overriding theme of his work is recalling childhood memories that suggest a conversation between the experience and the material value of his work.
Patrick Simkins' new paintings explore how individuals relate too and document one another in an online world. Questioning privacy and how we present ourselves online, his live interactive performance fusing dance music and digital media with audience interactionencourages a physical presence, engagement and interaction amongst the spectators, a paradox to the online world of communication we find ourselves submerged within.
Paul Westcombe (born in Inverness in 1981). graduated with an MA in Painting from the Royal College of Art, London, in 2007 and with a BA in Painting from Gray's School of Art, Robert Gordon University, Aberdeen, in 2003. Recent solo exhibitions include The Symbols Pursue Me, The Cooperative, Liverpool Biennial, 2010 and Just Food for the Midgies, Project Space, Jerwood Space, London, 2009.Group exhibitions include Paper, Saatchi Gallery, London, 2013; Whitechaple open 2012 The RSA 186th Annual Exhibition, Royal Scottish Academy, Edinburgh, 2012; Condensation, Danielle Arnaud Gallery, 2011 and Bloomberg New Contemporaries, A Foundation, Liverpool and Club Row, Rochelle School, London, 2008. Awards include RSA William Littlejohn Award for Excellence and Innovation in Water-Based Media in 2011, was awarded the HI-Arts Development Award in 2011 and was in for the Jerwood Drawing Prize in 2007. His works are held in the collections of The Royal Scottish Academy, Edinburgh; Royal College of Art, London; Jean-Michel Timsit and Saatchi Gallery, London
Patrick Simkins Painter and interactive performance maker, working in London and Paris. Born in Surrey, 1986, Simkins graduated with a 1st class hons degree in Fine Art & Illustration from Coventry University (2008). Solo exhibitions include: Drella Gallery (2009); 9 Langton Street Gallery (2010) and Wimbledon Lawn Tennis Club (2012). Selected group exhibitions include: Align, Edgar Modern Gallery (2009); 20:12, Degree Art Gallery (2012); Church, House Gallery (2014); Art in Transit, BBK Oldenburg Gallery, Germany (2014); Rainbow Merchant, Schwartz Gallery (2015) and Connect2Colour Art Prize, Lacey Contemporary (2015). He has twice been a finalist in the National Open Art Competition (2009,2010).
Simkins' interactive performances have been performed throughout the UK and France, including The Workshop, Paris; Eye Candy Festival, Birmingham; Voila Festival, London and All Change Festival, London (all 2014). His work is in private collections throughout Europe and Australia. Corporate collections include Coventry Building Society and Peel Hunt, London.Simkins was a sponsored BT Storyteller in the lead up to the London 2012 Olympic Gamesand joint artist-in-residence at Degree Art Gallery.Upcoming exhibitions include a two-man show at BBK Oldenburg Gallery, Germany (October 2016).
Michael Colegate
Michael Colegate was born in Saudi Arabia before moving to London, England. He is a recent graduate of Southampton University. Michael uses his experiences with travel and memory as a tool to identify ideas and simplify them into their most fundamental elements. Striving to communicate a direct and clear message within both his art and design practices.
Colegate started out painting, with deft, sketchy renderings of film-sourced imagery. Moving into smaller scaled collages that prompted his movement into creating digital collage. Michael created a response to a make-a-clock project sought to use phased video to visually 'neutralise' a metronome. The work required a plinth, the characteristics of which prompted an entirely new way of working with a vocabulary of improvised structures, mechanical features, and projection.
He has recently shown alongside Ian Dawson, Louisa Minkin, Nicola Thomas, Claude Heath, John Greenwood and MhariVhari  as part of C&C Gallery's summer residency and exhibition programme funded by the Arts Council England.