C&C GALLERY with MONA OSMAN
at London Art Fair 2018
Stand P9 – Art Projects
17th -21st January
Preview (Invitation Only) Tues 16th Jan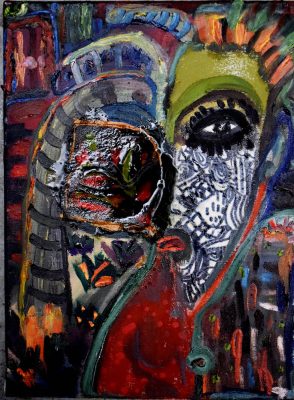 We are delighted to announce
Mona Osman – The Bitter Wind 
is showing at London Art Fair 2018
We warmly welcome you to come and visit us.
We have complimentary admission tickets to the fair, please do pop into
Canvas & Cream to collect if you would like one (limited number available) or email info@canvasandcream.com for an e-ticket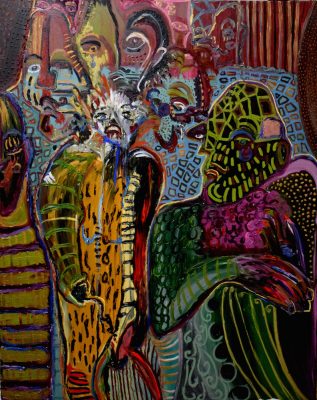 Osman's paintings are in narrative to each other, each painting responding to another in the same manner the figures within them relate. With clear reference to Gustav Klimt and Piet Mondrian using closely related signifiers, she searches for a universal thread with which to connect or understand, at the same time as seeking an inner possibly shared logic.
The paintings demonstrate the struggle to identify or anchor oneself in relation to others, their personas, their anxieties, their feelings or their ways of being, they move through to an investigation of the artists' relationship to existence itself, a search for self in the larger context of the universe.
Her most recent paintings revolve around intense emotional states; mainly anger. "In the Forest with Remorse" visualizes the moment when rage has dissipated but the damage of rage has already taken place. "Catalysator" depicts the tension of holding back under intense pressure. Osman juxtaposes heavy brush strokes and intense colours with the melancholic calmness of the figures within, whether it is the quiet before or after the storm, her new paintings explore the different stages of an emotional outburst.
However you read Osman's work whether seduced by the aesthetic beauty of her rich palette or the depiction of conflicted pain, they remain tirelessly fascinating. Just when you think your eye has settled and is ready to move on, something small jumps out to bite you from the side lines and you are compelled to start all over. As with the nature of relationship to our emotions and with each other, we seek to understand and sometimes reconcile yet we perpetually fail, the grappling with this journey is where the success lies in these fascinating and compelling works of art.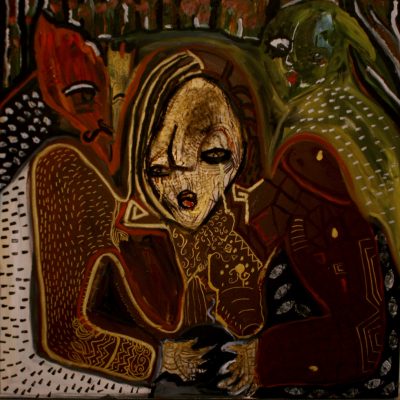 Mona Osman was born in Budapest, Hungary in 1992, her mother is a Hungarian Jew and her father a Sudanese Muslim, as such cultural diversity and sometimes conflict heavily influences her work. She spent her childhood in Budapest, later in Nice, in France and finished high school in London. She graduated in 2014, with a BA Fine Art at Goldsmiths University of London after being awarded the Neville Burston Painter's award and the Goldsmiths Warden's Purchase Award. She Graduated with her MA in Painting from the Royal College of Art in 2017. She has exhibited in C&C Gallery London, London Art Fair, Busan Art Fair, GX Gallery London, her works are in the Saatchi collection, the Jimenez-Colon Collection and in private collections in the UK, Korea and the USA.