Halo: Raf Zawistowski curated by Juan Bolivar
19th April – 2nd June 2012 – Private View Wed 18th April 6-9 pm
acquired by the Saatchi Collection
Raf Zawistowski's debut solo exhibition focuses on the relationship between materiality and his use of religious iconography. In the works presented, thick encaustic paint (a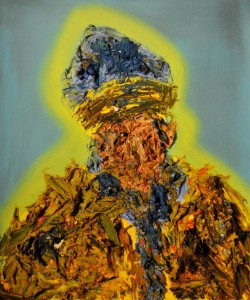 mixture of wax and oil paint) is applied heavily alongside day-glow fluorescent colours to create images that explore an area which Zawistowski refers to as existing between "the sublime and the anti-sublime". By doing this, he sets up a dialogue between image and the materiality of paint in order to produce works which seem to exude what the Neo-Geo artist Peter Halley once referred to as "the after glow of low budget mysticism".
In this exhibition, Zawistowski has produced a new body of work comprising of twelve paintings. Choosing to make twelve paintings derived from the available imagery of the 265 Popes to have reigned to date, Zawistowski hints at the Apostolic connection they have with the Christian faith, and the succession of spiritual authority embodied by these religious figures. His paintings take as their starting point the familiar iconography of the Pope, which, whilst recognisable as this, suggest instead hollowed-out silhouettes or flattened 'carvings' of these Papal images.
Modestly titled by simply quoting the names of different Popes, such as Peter, Andrew and James the Greater, Zawistowski questions our relationship not just to the papacy but to the idea of organised belief systems, and what occurs when these emblems are stripped down and removed from their hierarchical hegemony. As we negotiate this relationship, Zawistowski follows on a tradition of artists from Velazquez to Francis Bacon who have used this familiar iconography to question its current significance within society.
Raf graduated MA in Fine Art, Wimbledon College of Art in 2011 and BA in Fine Art, Ontario College of Art and Design in 2006. Selected exhibitions include: One Giant Leap: Works from the Saatchi Collection, Hyatt Regency, London (2012), Bloomberg New Contemporaries, S1 Space, Site Gallery, ICA, London (2011), CCW Salon Chisenhale Gallery, London (2011), Pathways Profetti, Dismari Gallery, Toronto, Canada (2009). His work is in the Saatchi Collection, the Robert Rose Collection and various private collections in London and Ontario.
The exhibition has been curated by Juan Bolivar. HALO: New Paintings by Raf Zawistowskiis Bolivar's 21st curatorial project and the first of three exhibitions curated for Canvas & Cream Gallery Project Space where he presents debut solo exhibitions by unrepresented London-based artists.