Pause: Selected drawings by Barbara Walker curated by C&C Gallery
12th June – 13th July 2014 – Private View Wed 11th June 6-9pm
C&C Gallery are pleased to present Pause: works by Barbara Walker, an artist working from the perspective of her own and her family's experience of growing up as an Afro-Caribbean in Birmingham UK and the reaction of those around them.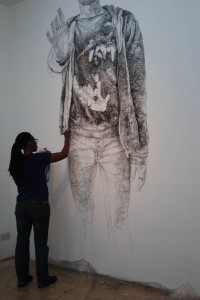 Works have been selected from two bodies of work, Show and Tell'; a series of works which explore clothing as an expression of identity by the wearer, while at the same time act as an identifier for those watching. Although both wearer and watcher may inhabit the same 'culture', signifiers are received and interpreted in disparate ways, leading to or a demonstration of racial conflict depending on whose perspective you view it from.
Walker produces powerful political works that display excellent technical skill at the same time as offering a glimpse into her personal life and those around her.
'Pause' invites the viewer to stop and consider, for a minute, what the image brings in the first reactionary  instance, in comparison to the secondary intellectual consideration of these works. Every crease and pore of the young man's skin, every fold in his clothing and tattoo on his hands has been intricately examined and laboured over by a draftswoman who clearly cares about the person she draws. On the other hand the reality of such men's life outside the home, is that young black men are six times more likely to be stopped and searched by police than young white men. In 'Louder than words' Walker's work takes us through the personal and political nuances of  being black in contemporary society; stop and search cards and newspaper cuttings are used as backdrops for portraits of her son, large scale drawings focusing on adorned torso's, carefully constructed hairdos and thought out poses show the innocent triggers that often attract unprovoked police attention. The colour of ones' own skin will impact on the reaction we have to these drawings and it is worth taking a moment to contemplate this initial reaction whatever it may be.
The 'Personal is Political' a 'war cry' of feminists in the 1970s demonstrated the use of consciousness-raising as a form of political action to elicit discussion about such topics as women's inequality and domestic violence. Walker's exposure of male fragility and the emotion with which this is employed exposes the 'personal' whilst it politically contradicts the stereotyping of black men and their families that we are used too.
The 'Dichotomy  of  Kenny'  and  the  'Dichotomy  of  Sean' take this 'personal' a step further towards a wider direct political arena, phrases  taken  from  the reporting of the killings of  two  innocent  young  men:  Jean  Charles  de  Menezes,  2005  and  Trayvon Martin 2012 highlight the extremity that misinterpreting signifiers such as clothing and identity can go too and the devastating subsequent effect this can have on a society as a whole. In contrast we are simultaneously reminded of the humanity of both the sitter and artist, the delicate execution pointing towards a beautiful vulnerability of young men in the eyes of those who really know them.
Barbara Walker is an artist based in Birmingham, England. Her practice is inspired by the social, political and cultural realities that inform her life and the lives of those around her. Working primarily in drawing and painting, her work addresses issues such as class, representation, power, and belonging. She has undertaken several residencies and has had a significant number of solo exhibitions. Her work has been included in international exhibitions and she has received a number of awards, residencies and commissions.